TDSi has just unveiled its exciting new GARDiS Bluetooth Low Energy Reader, which enables people to gain access to a secured door via a credential stored safely on their smartphone. The new reader is perfectly suited to the continued need for social distancing and non-touch security technology, helping to lower the risk of cross-infection of COVID-19 and other infectious diseases.
Rather than being a lucky fluke of timing, the news reader's launch is the result of precision planning by the TDSi team. As with all new products, our team has been planning, testing, and assessing the concept and technology of the GARDiS Bluetooth Low Energy Reader for some time.
In the first part of this blog, we hear about the technical and practical concept behind the new reader from TDSi's Software Project Manager, Tina Baker. In the second part, TDSi's UK Sales Director Alex Rumsey discusses how the reader was developed to meet evolving market demands.
Technology benefits and practical considerations
Undoubtedly we have all become much more centred around our smartphones in recent years, and when we set about developing the GARDiS Bluetooth Low Energy Reader (BLE Reader) this became an obvious starting point.
Although the BLE Reader has become particularly useful post-pandemic, we actually started the development of it before the COVID-19 outbreak. Obviously non-contact systems are very important now, but TDSi already had plans to utilise this most effective of technologies anyway.
Most people have a smartphone and understand the incredible potential these devices have for enhancing our lives. Significantly, people have become a lot more comfortable with the prospect of using a mobile device for high-security features and security authentication – just look at all the banking, retail, or other secure identity-based apps on the average phone!
Recent studies suggest considerable enthusiasm around using a smart device for physical security authentication too, with 98% of security users saying that access control using a token or card is a noticeable constraint on their daily routine, whilst 68% would like to use their mobile smartphone to grant access.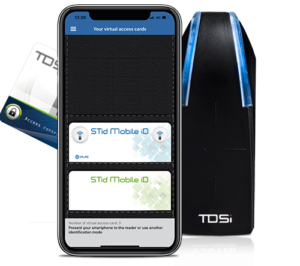 Mobile phones are central to our daily lives and undoubtedly people are more likely to go back and collect theirs if they accidentally leave them at home, compared to forgetting a security token for example. Put simply, if you store your access control credentials on your phone you are less likely to be without them when needed. As well as the convenience, you are much less likely to lend your phone to other people than a security card, which immediately adds additional peace of mind.
Smartphones also provide an exceptional additional level of protection through their inherent built-in security. A perfect example of this is online banking, using the inbuilt security of the device as another layer of protection, (a minimum most devices require is a PIN/pattern code, facial recognition, or a biometric/fingerprint to activate and be used) which also lends itself very well to secure access control using the device. If an access control card/token is lost/stolen it can be used by an unauthorized person, but that is far more difficult on a smartphone.
There are considerable benefits for the security operator too. Many businesses lack a permanently manned reception (unless it's a managed office or part of a big enterprise site). With a mobile device, it is a simple process to authenticate a visitor or new member of staff, add them to the access control system and then remotely send the credential to their chosen device. All you need to do is send an email to a trusted account and the access control can be securely downloaded.
The flexibility to create temporary access for visitors is another key benefit of using a virtual security credential on a mobile device. When the end date/time occurs, the access is automatically revoked, removing the possibility of it being misused after that. The user must access the phone and the credential needs to stay active before it is even possible to attempt access, making it much easier for the security team to lockdown access if required.
As a well-proven and highly secure approach, the BLE Reader is a great example of a technology that had enormous potential anyway but has proven to be highly future-proof during the huge changes we have seen in 2020 and moving forwards.
To learn more about how the new BLE Reader was developed to address market needs, please see the second part of this blog HERE.
Tina Baker, Software Project Manager at TDSi